News
Wildwind is OPEN - The sun is shining and your boat is waiting for you on the beach!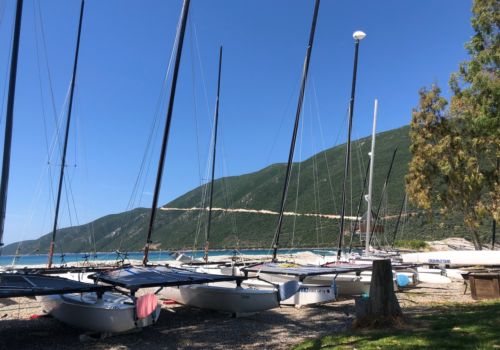 As you might imagine we are absolutely delighted that our Greek centre in Vassiliki is open as of 1st July.  Yes there are some  small changes that we have put into place to maintain health and safety for everyone (see below), but overall there is little change to the company that won the British Travel awards honour for the best sports /activity holiday company in 2019.
If you have already booked your holiday then our Europe agent Stephania will be in touch with you shortly to confirm all your details; otherwise, Joe and the team look forward immensely to seeing you back out on the water in the Greek sunshine.
If you haven't already booked, then please do try to complete your planning as soon as possible. Now that all EU citizens are able to travel, we have seen an upswing in bookings and we are already approaching capacity for certain weeks (for example, 15-22 August).
It is still early days and much is uncertain, but it may well end up being that actually going on holiday to Greece, especially Lefkas, is one of the safest things to do this summer. We will keep you informed as soon as we have any more reliable information. Always check our website for the latest information.
Which measure are we taking to keep everyone safe and healthy?
We are limiting the number of guests by 25% this year.  We had to cancel the Goodall foiling Viper for this year and have made small changes to our fleet – check our fleet here. Two persons sailing together is not an issue. Some social distancing measures at our restaurants have been put in place and we are unlikely to allow dancing at our BBQ.  Cleaning the rooms (and changing sheets) will be done once mid-week rather than daily. Our Healthy Option programme will not be available until July 19th.
Low cost flights available
Note that currently there are many very affordable flights available, including some new routes such as Corendon from Amsterdam, Ryanair from Vienna, EasyJet from Milan and many others. There are also many options with a short stopover, depending on where you are flying from. Do check skyscanner.com to find a flight that works for you.
More News
Wildwind is OPEN - The sun is shining and your boat is waiting for you on the beach!